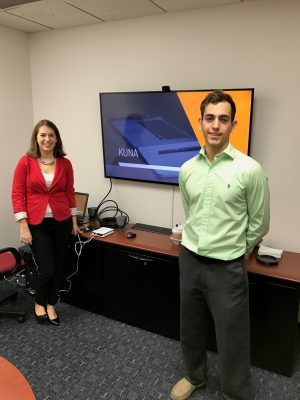 Title:
FIU students develop solution for protecting smart homes during disasters
Date:
November 8, 2011
With homes fit to the teeth in smart gear, a pair of students from Florida International University devised a way to make these throngs of tech work in a home's favor during times of crisis. In essence, the duo utilized motion, door, water, and relay sensors provided from smart device manufacturer Centralite to quickly amass and relay data across the internet during a disaster. The hope is that the crowdsourced information gathered helps those capable of responding to act quicker than usual. Furthermore, the novel idea caught the attention of IBM — and its Watson supercomputer — who hopped on board to collaborate.
To come up with the idea, electrical engineering student Adrian Mederos and entrepreneurship undergraduate Valeria Siegrist looked to the how firefighters dealt with the recent California wildfires. During the mounting crisis, those working on curbing the flames traded information via social media channels, providing information for those in homes near the blaze. Using this same idea, Siegrist and Mederos envision smart homes utilizing the Internet of Things (IoT) to talk to each other in a way which — if a disaster occurs — turns off appliances and turns on sprinklers, for one example.