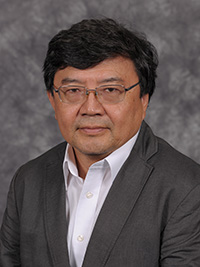 EDUCATION
Ph.D. in Electrical Engineering, Vanderbilt University, Tennessee, August 1985
M.E.E in Electrical Engineering, University of Virginia, Virginia, December 1979
B.S. in Geophysics, National Central University, Taiwan, R.O.C., July 1974
PROFESSIONAL LICENSE
1989- Professional Engineer, registered in the State of Florida
Publications in the Past Five Years
 A. Sargolzaei, K. K. Yen and M. N. Abdelghani, "Preventing Time-Delay Switch
           Attack on Load Frequency Control in Distributed Power Systems,"  IEEE
           Transactions on Smart Grid, vol. 7, no. 2, pp. 1176-1185, March 2016.
K. Zeng, N. Wu, X. Yang, L. Wang and K. Yen, "FHCC: A Soft Hierarchical
          Clustering Approach for Collaborative Filtering Recommendation,"  Int'l J. of
          Data Mining and Knowledge Discovery Process, Vol.6, No.3, pp. 25- 36, May 2016
A. Sargolzaei, K.  Yen, M. Abdelghani,  A.  Mehbodniya, A. ands. Sargolzaei, A Novel Technique for Detection of Time Delay Switch Attack on Load
          Frequency Control, " Intelligent Control and Automation, Vol. 6, pp. 205-214, October 2015.
Sargolzaei, A., Jamei, M., Yen, K., Sarwat, Arif., Abdelghani, M.N., "Active/Reactive Power Control of Three Phase Grid Connected Current Source Boost Inverter Using Particle Swarm

Optimization.", Progress in Systems Engineering, Springer International Publishing, Chapter book, pp. 141-146, 2015.
H. Xiao, Y. Du, C. Bai, Z. Guo, K. Yen, "Design of a High-Voltage Piezoelectric Converter for Airbag Ignition Modules," J. of Power Electronics, Vol. 14, issue:1,
          pp.183-193, 2014
Du, H. Xiao, K. Yen, J. Andrian, "A New Blind Fuzzy Estimator for Signal  Separation," ICIC Express Letters, An Int'l J. of Research & Surveys, Vol. 8, No. 12, December 2014
A. Sargolzaei, K. Yen, K. Zeng, S. M. A. Motahari, and S. Noei, "Impulse ImageNoise Reduction Using Fuzzy-Cellular Automata Method, International Journal of
          Computer and Electrical Engineering," Vol. 6, No. 2, pp. 191-195, April 2014.
K. Zeng, N. Wu, and K. Yen, "A Color Boosted Local Feature Extraction Method for Mobile Product Search,"  Int' J. on Recent Trends in Engineering and Technology,

Vol.10, No.2, pp.78- 84, January 2014.


A. Nayak, T. Prieto, M. Alshamlan, K. Yen, "Android Mobile Platform Security & Malware Survey,"  Int'l J. of Research in Engineering and Technology, vol. 2,
          Issue 08, Aug. 2013
A. Sargolzaei, K.K. Yen, Motahari, S. Noei, "Delayed Inputs Attack on Load Frequency Control in Smart Grid,"  accepted in 5th Innovative Smart Grid Technologies Conference (IEEE 2014, PES)


A. Sargolzaei, K.K. Yen, Motahari, S. Noei, "Time-Delay Switch Attack on Load Frequency Control in Smart Grid," accept in J. of Advanced in Communication Technology , 2014


A. Sargolzaei, K.K. Yen, K. Zeng, S.M. A. Motahari, S. Noei, "Impulse Image Noise Reduction Using Fuzzy-Cellular Automata Method,"  Int'l J. of Computer and Electrical Engineering, Vol.6, No.2,   pp.191-195, April 2014


A. Sargolzaei, Kang K. Yen, MN. Abdelghani, "Control of Nonlinear Heartbeat Models under Time-Delay-Switched Feedback Using Emotional Learning Control,"  Int'l  J. on Recent Trends in
          Engineering and Technology, Vol.10, No.2, pp-8591, Jan 2014
K. Zeng, N. Wu, and K. Yen, "A Color Boosted Local Feature Extraction Method for Mobile Product Search", Int'l J. on Recent Trends in Engineering and Technology, Vol.10 No.1, January 2014


Sargolzaei, K. Yen, S. Noei, "Assessment of He's Homotopy Perturbation Method for Optimal Control of Linear Time-Delay Systems," Applied Mathematical Science, Vol. 7, No. 8, 2013 pp.349-361


A. Mehbodniya, F. Kaleem, K. K. Yen, F. Adachi, "A Fuzzy Extension of VIKOR for Target Network Selection in Heterogeneous Wireless Environments,"  Physical Communications,Vol.7, June 2013,   pp.145-155


Sargolzaei, A., Yen, K., and Abdelghani, M.N., "Time-Delay Switch Attack on Load Frequency Control in Smart Grid.", J. of Advances in Communication Technology, Vol. 5, pp. 55-64,  December 2013.


 A. Mehbodniya, F. Kaleem, K. K. Yen, F. Adachi, "Wireless Network Access Selection Scheme for Heterogeneous Multimedia Traffic,"  Institution of Engineering and Technology, IET Digital Library, http://digital-library.thesis.org /content/journals/10.1049/iet-net.2012.0188.


A. Mehbodniya, F. Kaleem, K. K. Yen, F. Adachi, "A Fuzzy Extension of VIKOR for Target Network Selection in Heterogeneous Wireless Environments,"  Physical Communications, Vol. 7, June 2012, pp.145-155


F. Kaleem, A. Mehbodniya, K. K. Yen, F. Adachi, "A Fuzzy Pre-Processing Module for Optimizing the Access Network Selection in Wireless Networks,"  Advances in Fuzzy System,  Article ID 232198, 9 pages, 2013


F. Kaleem, K. K. Yen, A. Mehbodniya, A. Islam, F. Adachi, "A Modularized NAT Selection Scheme for Dynamic Multi-Traffic Multi-Tier Network Architectures,"  Int'l J. of Advanced Intelligence, Vol.4, No.1, pp.109-132, Dec. 2012.


F. Kaleem, A. Mehbodniya, K. K. Yen, A. Islam, F. Adachi, "A Dynamic Weighting of Attributes in Heterogeneous Wireless Networks Using Fuzzy Linguistic Variables," China Communication, Vol.10, No.1, pp1-16. Jan 2013


F. Kaleem, K. K. Yen, "Wireless Security", Information Assurance and SecurityTechnologies for Risk Assessment and Threat Management: Advances, pp. 17-45, 2012


F. Kaleem, K. Yen, "Wireless Security" in Information Assurance and Security Technologies for Risk Assessment and Threat Management: Advances, IGI Global, 2011