EMINENT SCHOLAR CHAIRED PROFESSOR
AND DIRECTOR OF FPL-FIU SOLAR FACILITY



Acdemic Degrees
Ph.D. in Electrical Engineering from the University of South Florida, Tampa, Florida

M.S. in Electrical & Computer Engineering from the University of Florida, Gainesville, Florida

B.S. in Electronics Engineering from Aligarh Muslim University, Aligarh, India


Professor's Website Google Scholar Link EPS Group at FIU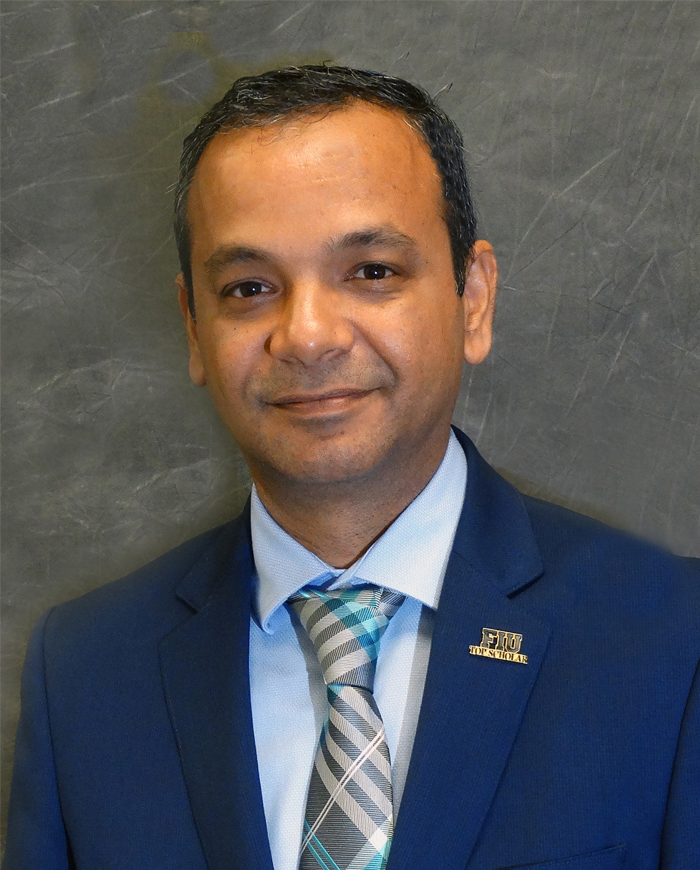 Dr. Arif Sarwat is a Professor in the department of Electrical and Computer Engineering and also the Director of FIU-FPL Solar Research Center. Dr. Sarwat received his Master's degree from University of Florida, Gainesville , his Ph.D from University of South Florida, Tampa and currently leads The Energy, Power and Sustainability Group at FIU. Dr. Sarwat's research interests include smart grids, Plug-in Hybrid and Electric Vehicle (PHEV & EV Systems), high penetration renewable systems, grid resiliency, large-scale data analysis, advance metering infrastructure, smart city infrastructure and cybersecurity. His outstanding contribution led him to become the recipient of NSF Career Award in 2016 and multiple federal and industry research awards. He was the author/co-author of conference best paper awards at the resilience week in 2017 and a journal best paper award in 2016 from Modern Power Systems and Clean Energy journal. Dr. Sarwat worked at Siemens for more than nine years, winning three recognition awards. He is chair of IEEE Miami Section VT and Communication since 2012. For further information, please visit:
http://www.eps.fiu.edu.
Noteworthy Awards
2019 - FIU TOP Scholar Award
2016 - NSF CAREER Award
2016 - Faculty Award for Excellence in Research & Creative Activities
2016 - College of Engineering & Computing Worlds Ahead Performance
2015 - FIU TOP Scholar Award


Ongoing Projects   

Hybrid Energy Storage Systems for Distributed Energy Resources
Cyber Physical Solution for High Penetration Renewables in Smart Grid
SISGSR Project: AI-Based FIU Renewable Smart Microgrid.
Simulated and Synthetic Data for Interdependent Communication and Energy Critical Infrastructures.
Critical Resilient Interdependent Infrastructure Systems and Processes and Processes.
Advanced research on Integrating Emerging and Existing Systems (ARIES).
CPS: Synergy: Collaborative Research: Towards SECURE Networked Cyber-Physical Systems: A Theoretic Framework with Bounded Rationality.
DOE SEEDS: Tri-Modular Framework for Intelligent Visualization of Smart Grid Cyber-Attacks.
Inductive Power Transfer Systems for Electric Vehicles.
Wireless Charging on the go: Dynamic Wireless EV Charging System while driving.
Electric Power Reliability and Analytics Center for High Penetration Distributed Renewable Resource Modern Grid System.
FEWS: Food Energy Water System.
Collaborative Research: RIPS Type 2: Vulnerability Assessment and Resilient Design of Interdependent Infrastructures
For further information on past and present research projects led by Professor Sarwat, please visit
https://eps.fiu.edu/research-2
/.
Labs Under the Directorship of Professor Sarwat
The EPS Group has full capability of developing any project ground-up, from laboratory-scale simulations and verifications to field deployment and validation. In the form of a grid-tied network comprising the 1.4 MW photovoltaic (PV) power plant at FIU's Engineering Center, a total of 4 MW distributed PV power plants at Daytona, and a 74.5 MW PV power plant in Miami, the Group has access to more than 30 feeders and sub-transmission lines where DERs are installed at residential and commercial, and utility-scale, respectively. The Energy, Power & Sustainability (EPS) Group at FIU has various logically independent zones connected seamlessly.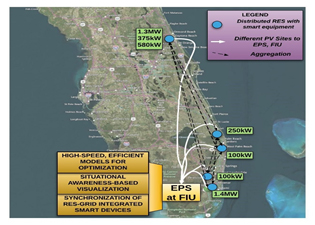 Proactive Analytics and Data Oriented Research on Availability & Security (PANDORAS) Lab

The Center for Proactive ANalytics and Data-Oriented Research on Availability & Security (PANDORAS) is equipped with multicore central and general-purpose graphical processing units (GP-GPUs) integrated over a secure, isolated network. The lab is equipped with a large capacity data server, ten high powered workstations, a GPU server for accelerated machine learning, and a multi-panel wall screen for monitoring. These resources are applied in the development of the cyber security software, data synthesis, and grid edge analysis. The data collected by the center includes, but is not limited to, generation of photovoltaic (PV) production meters, PV inverter settings, frequency disturbance recorder readings, feeder relay settings, 10 years' worth of historical values and hourly forecasts of weather and cloud coverage local to the PV systems, and grid reliability cube. Additionally, PANDORAS also runs in parallel to and replicates 20 GW of peak power generation with 5 million utility customers served by over 500 distribution substations that consist of feeders with different topologies (radial, mesh and loop). Furthermore, the lab is equipped with the actual capabilities of Advanced Distribution Management Systems (ADMS) as used by the utility. The center conducts processing at all levels- descriptive, diagnostic, predictive, prescriptive, and cognitive- to understand and offer actionable insights into different scenarios of the grid in near real-time. Such processing models will help the utilities with planning and decision-making at their command and control centers as well.

Grid Energy Intelligence Exploration Research (GENIE) Lab

Genie lab is a state-of-the-art Control Room for AI-Renewable Microgrid and hardware-in-the-loop real-time simulations. GENIE Lab houses OPAL-RT, and LabVolt simulators along with the InTouch Wonderware system, thereby providing the capability to test, simulate, and validate inverters, batteries, and other grid-based equipment.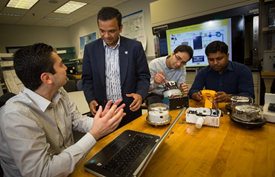 Recent Journal Publications
A. Sundararajan, AS. Hernandez, A. Sarwat "Adapting Big Data Standards, Maturity Models to Smart Grid Distributed Generation: Critical Review",
A Sundararajan, TO Olowu, L Wei, S Rahman, AI Sarwat, "A Case Study on the Effects of Partial Solar Eclipse on Distributed Photovoltaic Systems and Management Areas,"  IET Smart Grid, Vol 2, Issue 3, p 477-490, September 2019, DOI: 10.1049/iet-stg.2019.0002
A Sundararajan, AI Sarwat, A Pons, "A Survey on Modality Characteristics, Performance Evaluation Metrics, and Security for Traditional and Wearable Biometric Systems",ACM Computing Surveys, Vol 52, Issue 2, May 2019. DOI: 10.1145/3309550
Parvez, I. and Sarwat, A.I., "A spectrum sharing based metering infrastructure for smart grid utilizing LTE and WiFi.", 2019.  Adv. Sci. Technol. Eng. Syst. J., 4(2), pp.70-77.
A. Sundararajan, A. Chavan, D. Saleem, A. Sarwat, "A Survey of Protocol-level Challenges and Solutions for Distributed Energy Resource Cyber-Physical Security" MDPI Energies, Vol. 11, No.9, 2018, DOI: 10.3390/en11092360
Y Mekonnen, H Aburbu, A Sarwat, "Life cycle prediction of Sealed Lead Acid batteries based on a Weibull model",Journal of Energy Storage 18, 467-475, 2018. DOI: 10.1016/j.est.2018.06.005
"Future Challenges and Mitigation Methods for High Photovoltaic Penetration- A Survey", T.O. Olowu, A. Sundararajan, M. Moghaddami, A.I. Sarwat, MDPI Energies, Vol. 11, No. 7, June 2018.  DOI: 10.3390/en11071782
 

Recent Conference Papers
I Parvez, A Sarwat, A Debnath, T Olowu, MG Dastgir, "Multi-layer Perceptron based Photovoltaic Forecasting for Rooftop PV Applications in Smart Grid",. 2020
Jonathan Sarochar ; Ipsita Acharya ; Hugo Riggs ; Aditya Sundararajan ; Longfei Wei ; Temitayo Olowu ; Arif Sarwat. "Synthesizing Energy Consumption Data Using a Mixture Density Network Integrated with Long Short Term Memory."   2019 IEEE Green Technologies Conference,
A Khalid, A Sundararajan, A Hernandez, A Sarwat, "FACTS Approach to Address Cybersecurity Issues in Electric Vehicle Battery Systems",2019 IEEE Technology & Engineering Management Conference (TEMSCON)
A Khalid, A Sundararajan, A Sarwat, "A Multi-Step Predictive Model to Estimate Li-Ion State of Charge for Higher C-Rates" 2019 IEEE Conference on Environment and Electrical Engineering and I&CPS
Y. Mekonnen, A.Sarwat, S. Bhansali, "Food, Energy and Water (FEW) Nexus Modeling Framework" Proceedings of the Future Technologies Conference, 346-364, 2019.    

    





Contact Information
Office Number: EC3913
Lab Number: EC 3920
Phone (office): (305) 348-4941
Phone (Lab): (305) 348 2935
Email: asarwat@fiu.edu
Mail: Florida International University (FIU),10555 West Flagler St., EC3913
Miami, FL 33174