DISTINGUISHED UNIVERSITY PROFESSOR
---
ACADEMIC DEGREES
Ph.D. in Electrical Engineering from University of Michigan, Ann Arbor

M.S. in Electrical Engineering from University of Michigan, Ann Arbor

B.S. in Electrical Engineering from Sharif University of Technology
AREAS OF EXPERTISE
CMOS Integrated circuits and SoC systems

Biomedical electronics and cancer screening technologies

VLSI signal processing

Full custom circuits and CAD tools

Video and image processing

Digital communication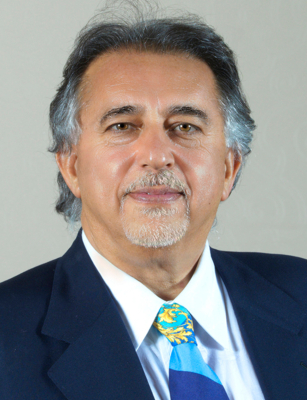 SELECTED PUBLICATIONS
1) M. Hatamian and G.L. Cash, "Parallel Bit-Level Pipelined VLSI Designs for High Speed Signal Processing," Proc. IEEE, vol. 75, N09, pp 1192-1202 (1987)
2) M. Hatamian, " A real-time two-dimensional moment generating algorithm and its single chip implementation," IEEE Transactions on Acoustics, Speech and Signal Processing, Volume: 34 , Issue: 3
3) M, Hatamian, "Understanding Clock Skew in Synchronous Systems," Concurrent Computations, Plenum Publishing Corporation, 1988.
4) Hatamian, M.; Parhi, K.K., "An 85-MHz fourth-order programmable IIR digital filter chip," IEEE Journal of Solid-State Circuits, Volume: 27 , Issue: 2
5) Hatamian, M.; Agazzi, O.E.; Creigh, J.; Samueli, H.; Castellano, A.J.; Kruse, D.; Madisetti, A.; Yousefi, N.; Bult, K.; Pai, P.; Wakayama, M.; McConnell, M.M.; Colombatto, M., "Design considerations for gigabit Ethernet 1000Base-T twisted pair transceivers," Proceedings of the IEEE 1998Custom Integrated Circuits Conference, 1998.
6) M. Hatamian, L. Hornak, S. Tewksbury, E. Burkhardt, R. Howard, "Electrical Behavior of a 31-cm, Thin-film YBaCuO Superconducting Microstrip," Journal of Applied Physics, November 1989.
7) Rao, S.K.; Hatamian, M.; Uyttendaele, M.T.; Narayan, S.; O'Neill, J.H.; Uvieghara, G.A.," A real time P*64/MPEG video encoder chip," IEEE International Solid-State Circuits Conference, 1993. Digest of Technical Papers. ISSCC '93
8) M. Hatamian, N. Maxemchuck, "Homenet: A Broadband Network for Voice/Video/Data over Cable Networks," Bell System Technical Journal, BSTJ.
9) M. Hatamian, D. Anderson, "Design Considerations for a Real-Time Ocular Counterroll Instrument," IEEE Transactions on Biomedical Engineering, Vol.BME-30, No. 5, May 1983.
10) M. Hatamian, G. Cash, "A 70 MHz 8-bitX8-bit Parallel Pipelined Multiplier in 2.5 um CMOs," IEEE J Solid-State Circuits, Vol.sc-21, No4, Aug. 1986, pp 505-513.
CONTACT INFORMATION
Email: TBD
Phone: TBD
Office:
FIU Engineering Center
10555 West Flagler Street
Miami, Florida 33174
(Room EC TBD)
Awards/Distinctions

Member, National Academy of Engineering

Fellow, IEEE

Fellow, Broadcom Corp.

Broadcom #1 Patent Holder Award, 2005

Broadcom #1 Patent Holder Award 2006

University of Michigan's ECE Alumni Merit Award, 2008.

Rackham Graduate School Fellowship, University of Michigan, 1978

Sharif University of Technology Scholarship, 1977.

Honorary Ph.D., Dubna International University, Russia.

Professional Affiliations

National Academy of Engineering

IEEE