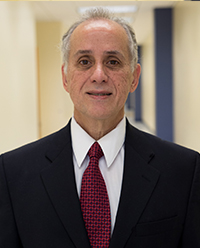 Education
PhD in Computer Engineering, Florida Atlantic University, in Progress, to be completed in Summer 2015
MS in Electronic Engineering, Universidad Simón Bolívar, Caracas Venezuela
BS in Electronic Engineering, Universidad Simón Bolívar, Caracas Venezuela
Areas of Expertise
Electronic Design
Vehicular Ad hoc networks (VANETs)
VANET simulations
Traffic Assignment
Insect Inspired Algorithms
Professional Activities
Instructor Wilmer Arellano has been with FIU since 2004. He has been responsible for the organization of the Senior Design sequence, including: teaching Senior Design I, coordinating the students enrolled in Senior Design II, and making sure that ABET requirements for the Capstone Project are met successfully. Mr. Arellano introduced the concept of video reports at ECE based on his previous expertise in TV production. He coaches the Senior Design and Engineering Orientation students in these productions, resulting in high quality video clips of the student projects. These clips showcase the students' technical skills and enhance their communication abilities. Mr. Arellano works continuously on improving the Engineering Orientation course to provide the students with a close to real life engineering experience and keeping up to date with the latest technological advancements including robotic projects. Instructor Arellano conducts research on VANETs and in particular the Traffic Assignment Problem. He is a member of IEEE and holds a Florida professional engineer license.
Courses Taught
EEL 4920: Senior Design I
EGN 1002: Engineering Orientation
EEL 3514: Communication Systems
EEL 4921C: Senior Design II
EEL 3712: Logic Design I
EEL 4510: Introduction to Digital Signal Processing
EEL 3135: Signals and Systems
EEL 3111: Circuits I
EEE 3303: Electronics I
Referred Journal Articles
Arellano W. and Mahgoub I., Reverse Online Algorithm for the Dynamic Traffic Assignment inspired by Ant Colony Optimization for VANETs. Int J of Swarm Intel Evol Comput 3: 111. doi:10.4303/2090-4908.1000111.