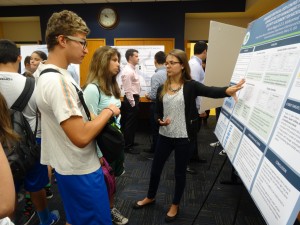 Title:
First REU semester completed at ECE
Date:
August 5, 2015
Associate Professor Kemal Akkaya and Assistant Professor Selcuk Uluagac were awarded $365K from the National Science Foundation to create a Research Experience for Undergraduate (REU) Site program within the ECE department. The project was titled "Security of Smart Things: From Small Devices to Large Infrastructures."
The site just finished its first successful semester and engaged 12 undergraduate students from across the US to conduct research under the supervision of an ECE faculty mentor. The program will last for three years and is expected to attract the involved students to continue their graduate careers at FIU ECE.
At the conclusion of the project, the REU students presented their research work to faculty, students, staff and a visiting group of young engineers from a local middle school.