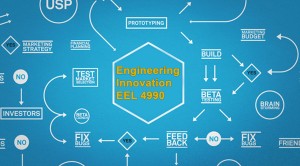 Title:
New course announcement for Undergraduates
Date:
July 20, 2015
Engineering Innovation – EEL 4990
Mondays 2 – 4:50 pm
The key idea in this course is learning how to rapidly develop and test ideas by gathering massive amounts of customer and marketplace feedback.  Many startups fail by not validating their ideas early on with real-life customers. Students will learn to "get out of the building" to talk to real customers to find out what they actually want, not what founders think they want.
This course is a student version of Steve Blank's  Lean LaunchPad.  It is a hands-on program that immerses student teams by having them test their business model hypotheses outside the classroom. Inside the classroom, it deliberately trades off lecture time for student/teaching team interaction.
The Lean LaunchPad uses the Customer Development process and the Business Model Canvas to collapse the infinite possibilities of a startup into a set of solvable problems.
This class uses experiential learning as the paradigm for engaging the participants in discovery and hypotheses testing of their business models.
From the first day of class, teams get out of the classroom and learn by doing.
*This course will count as a concentration elective for EE and CpE*
About the Instructors:

Richard "Hutch" Hutchinson
Hutch is a former senior executive, and current veteran coach and consultant. He has a successful track record of leading performance improvements over a broad range of businesses with a demonstrated ability to deliver strategic, financial and operational excellence while restructuring and building strong, motivated teams. He is a former public company CIO and previously served as Chairman with Vistage Florida / International, an international organization with over 15,000 Members in 16 countries, dedicated to increasing the effectiveness and enhancing the lives of CEOs. Locally, Hutch has help over 100 CEOs in South Florida grow their business and themselves. His passion is in performance leadership and management.
Terence Bentley
Mr. Bentley led expert teams in technology Mergers/Acquisitions, Product Management and Marketing, focused on network systems, software, IT services and semiconductors. He guided worldwide project teams that completed 40 strategic tech acquisitions, divestitures and VC investments ranging up to $3B in individual value. Transactions were closed in the UK, Norway, Germany, Israel, France, Canada and Brazil, and of course, the US. Earlier in his career, as a network systems Product Manager, his teams delivered 25 unique and market-creating networking