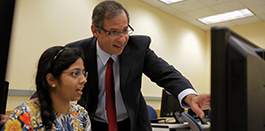 Title:
FIU designated as National Center of Academic Excellence in Cyber Defense Education
Date:
March 24, 2015
The National Security Agency (NSA) and the Department of Homeland Security (DHS) have designated Florida International University as a National Center of Academic Excellence in Cyber Defense Education through the year 2019. This designation, pioneered by Assistant Professor Alexander Pons, will help FIU meet the growing demand for professionals with network and cybersecurity expertise in various disciplines.
"This is a great accomplishment for FIU," stated Pons. "A university wide designation gives us recognition on a national level that we have the academic infrastructure within various units to be a validated source for cybersecurity education."
The Department of Electrical and Computer Engineering has made notable strides in cybersecurity education over the past year, establishing three brand new research and teaching labs focused on practices and methods used in network and cybersecurity.
Graduates with a designation in cyber security will not only have the opportunity to become cyberdefense experts protecting national security information systems and commercial networks, but they will be able to address the critical needs that exist for safeguarding infrastructures throughout private and public sectors.   This designation will increase grant and research opportunities for FIU students and faculty with such government agencies like NSA and DHS, as well as with private foundations and organizations.