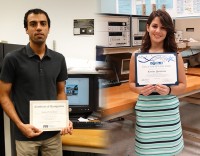 Title:
Graduate and Undergraduate students paving the road for a successful future
Date:
October 24, 2014
The ultimate success of the Department of Electrical and Computer Engineering at FIU is the success of its students. At the Undergraduate and Graduate levels, our students continue to excel in research, scholarships and education.
Karina Quintana is in her junior year, expecting to graduate in May 2016. This past April, she noticed an email from Ms. Stephanie Strange in the Office of Student Access and Success regarding a scholarship opportunity on behalf of HENAAC (Hispanic Engineer National Achievement Awards Corporation) and the "Great Minds in STEM" program.
She completed the application, which required an essay on what it takes to be a leader in STEM and a letter of recommendation from a friend. The application went to a list of different companies who chose students based on their personal essays to reward scholarships to. Karina won a scholarship and was sponsored by NASA.
Winning this scholarship also required students to attend a national "Great Minds in STEM" conference. While at the conference, Karina interviewed and was offered a summer internship with Boeing on China Lake Naval Air Weapons Station in California.
"Sometimes students are scared to apply for scholarships because of the time it requires writing an essay and a letter of recommendation from a peer or professor. Just think, the time it takes in writing one essay has resulted in a scholarship for me that will help me continue my education."
Karina's advice to her peers is start early looking for opportunities and take the time to fill out all applications because the time you take writing your application essay can literally, pay off.
Saman Sargolzaei is a Ph.D. student working in the CATE (Center for Advanced Technology and Education) at FIU ECE. With his background on functional imaging of neurodegenerative disorders, he now works towards studying Brain Connectivity Networks via different modalities (MRI and scalp EEG) in Pediatrics with Epilepsy.
As part of the CATE Center's collaboration with Baptist and Miami Children's Hospital, the main focus of his dissertation is to understand how the disease is related to the changes in brain connection. Saman has received one of the most prestigious scholarships known to the university, the Perry Graduate Scholarship. The donor for this scholarship and award is Charles E. Perry, FIU's founding president.
Saman also noticed an opportunity for a university wide scholarship by an email from Ms. Stephanie Strange. He then proceeded with the application process and with the support of his major advisor, Dr. Malek Adjouadi. In the late June, he was recognized for receiving the Perry Graduate Scholarship by the Office of Donor Relations and Scholarship. He attended the "Good Morning FIU" ceremony in September where he met the donors and was recognized for his achievements. Saman also recently received the Engineering Dean's Merit and Leadership Scholarship.
"These recent awards are milestones in my life, not only financially to support my education, but also because it is a life time demonstration of "it works if I work it," says Saman. "My definite advice to my fellows is to keep the "I can" attitude in their mind and work hard for the better of themselves and their communities. I would like to give my appreciations to my major professor, Dr. Malek Adjouadi and my brother, Arman, my colleagues at CATE, my ECE department and family whom because of them I have the honor to follow my dreams at FIU"