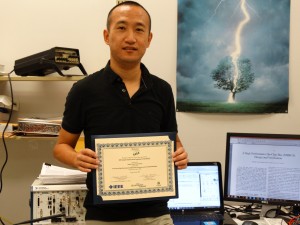 Title:
FIU Ph.D. student receives Best Paper at ISVLSI
Date:
July 28, 2014
Xiaokun Yang is still aglow after receiving the award for Best Ph.D. Forum Paper of the IEEE Computer Society Annual Symposium on VLSI (ISVLSI), in Tampa. The ISVLSI Ph.D. forum provides an opportunity for Ph.D. students to present their thesis work to a broad audience in the VLSI community from both industry and academia. Approximately 10 students were selected for oral presentations on their thesis work and research at the annual ISVLSI 2014 Ph.D. Forum. After a judge's deliberation, it was announced that Yang would take home the award for best paper with his research titled, "A Low-Cost and High-Performance Embedded System Architecture and an Evaluation Methodology."
His thesis work and award winning paper proposes a High-Performance Internet-of-Things (IoT) System-on-Chip (SoC) Architecture, including a novel low-power and high-security dual-bus protocol, relating to all hardware and software components of a SoC including communication protocols. An evaluation procedure was also created to examine the circuit performance automatically and accurately.
"IoT represents a major departure in the history of Internet, as connections move beyond computing devices, and begin to power billions of everyday devices," Yang said. Devices we are all familiar with like the Google glasses, Fitbit body scale, Philips smart lights, Nike wristband and Samsung smart watch. "No doubt it will be the next boom of the Internet."
No stranger to success, Yang holds two pending patents and esteemed academic honors. He was the Chair of the social planning FIU China alumni chapter, only excellent graduate representative in FIU's Master's degree graduation ceremony in Beijing '07, and the President of the Beihang FIU Master's degree program.
"It has been a wonderful experience at the symposium and I am very confident with our research. I would like to send a warm and well deserved thanks to my adviser Dr. Jean Andrian, and all my committee members, Dr. Gang Quan, Dr. Deng Pan, Dr. Hai Deng and Dr. Malek Adjouadi," stated Yang after receiving his award.
Yang is a Ph.D. student of Dr. Jean Andrian and teaches two electronics labs during the semester. He is projected to graduate with his Ph.D. in Computer Engineering in June, 2015. Born in Xilinhaote, a small city of Inner Mongolia in China, he currently resides in South Florida and plans to start up an IoT company after graduation.
While living in China, he worked as a Senior Design and Verification Engineer for AMD Corporation. Yang enjoys playing soccer. He is a member of the Chinese Panther FIU soccer team. Yang says, "I am very proud to be a graduate of FIU and I still display my roaring Panther Pride by telling my FIU story and achievements to my family and friends."